Unlock the value and potential of your claims team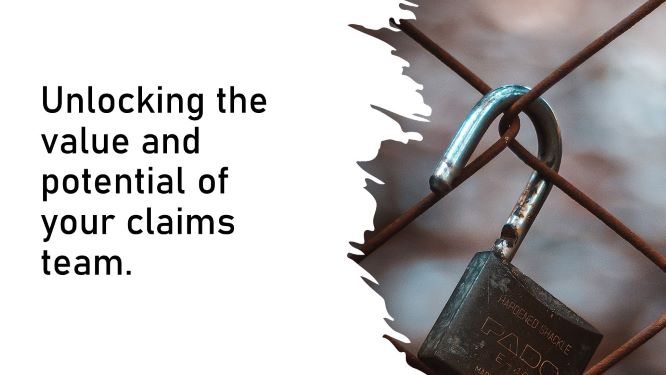 Your claims department may be a hidden asset.
Claims teams are one of the most important services and touch points for clients.
They often engage with the client as much, or even more than the client service teams and sometimes, with different people within the business.
This provides an ideal platform for them to spot opportunities, add value to clients, embed and leverage relationships, and create income generation opportunities including cross sales for other areas of the business.
However, many organisations miss a trick and do not truly recognise the additional value or the breadth of the role that their claims teams can play.
If they do not recognise the value themselves, how can they articulate that value to their clients?
As a result, the claims team is often treated as a cost centre and their expertise is given away for free.
How we can help you ?
In response to this challenge, Hammersbach Consulting have partnered with specialist trainers to the UK Insurance Sector, Nick Thomas & Associates to deliver an impactful solution helps you leverage this often-untapped opportunity.
An independent and objective review of the team's performance and capabilities can show your clients, claimants, your own senior management and insurers that you are striving to deliver a 'best in class' service and are committed to continuously improving the service that you deliver.
You will benefit from the knowledge that your claims handing service is being delivered in the most efficient and effective manner, your team is performing in line with your own and the market's expectations and that you are maximising the potential of your team.
A tailored training programme to help you recognise and unlock the value within your claims team and to help you develop the necessary skills and techniques to articulate the value and capabilities of the claims service you provide.
Additionally, the programme will help identify areas for potential revenue growth and equip your teams with the tools needed to discuss these with clients and colleagues.
About us
Hammersbach Consulting Ltd are claims management and defensibility experts with 30 years' experience working with a wide range of businesses from small start-ups and SMEs to national and international corporate clients. They help their clients identify areas of improvement, build client relationships, and deliver cost effective claims services. Their Associate business model enables them to draw on a wide range of expertise to ensure that they deliver the most effective and tailored solutions to their clients.
Nick Thomas & Associates provide specialist training, coaching, and consulting solutions to the UK Insurance Sector. Nick Thomas has a background in consultative sales and national sales leadership within the Broking space. Uniquely, he is also a widely qualified professional coach and has significant experience in training and consulting.
Through a select group of Associates, they can provide complete training programme design and delivery, to include sales, soft and business skills, technical insurance, compliance and regulatory training, performance, wellbeing, and resilience training.
What you need to do now
For more information on how we can help or for a more detailed understanding of how it could be structured for your business, please get in touch at: