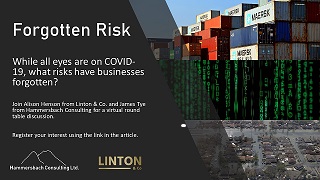 While the emphasis is on COVID-19, businesses can miss other risks.
'New ways of working', 'the new norm', are popular and often over used phrases in the current environment but, what about the 'old norm'?
Supply chain risks, GDPR and data security, Schrems, Flood, Theft, Brexit.
None of these risks have gone away and any one of them can have a greater impact on a business, it's bottom line, people, and it's reputation than COVID-19.
In our upcoming series of podcasts and webinars we'll be discussing the 'Forgotten Risks' and how businesses are addressing them whilst dealing with remote working, the closures of entire business sectors, a drop in earnings and the economic uncertainty.
To register your interest, go to the following link:
Linton & Co Ltd is headed up by compliance specialist, Alison Henson, who has many years of experience working in the financial sector. She started her career as a private practice lawyer, before moving in-house to work as the Head of Legal & Compliance for a large financial institution in the UK.
Through her work at Linton & Co, Alison now works closely with financial institutions of all sizes to help them with their compliance needs, such as meeting FCA obligations, change delivery, project management, GDPR compliance and in-house (or online) regulatory training for staff.