New training webinar 'Remote claims teams – enhancing performance and wellbeing'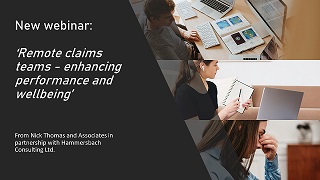 Covid-19 and the use of widespread 'lockdowns' across the world have resulted in a 'fourth industrial revolution' characterised by remote working and trading, and the likelihood of a permanent shift to a hybrid working model.
Employees and teams have had to adapt to this sudden change without meaningful planning or preparation. These changes present significant challenges to the performance and wellbeing of team members, and to the leadership skills of team leaders and their employers. Claims teams – accustomed to working alongside each other in an office environment – face their own specific challenges.
In response to this challenge, specialist trainers to the UK Insurance Sector, Nick Thomas & Associates have partnered with independent claims consultants, Hammersbach Consulting Ltd to deliver this impactful tailored training solution.
For more information please contact Nick Thomas at nick@nickthomasassociates.co.uk or  info@hammersbachconsulting.co.uk